A jersey appropriate in many ways for this ride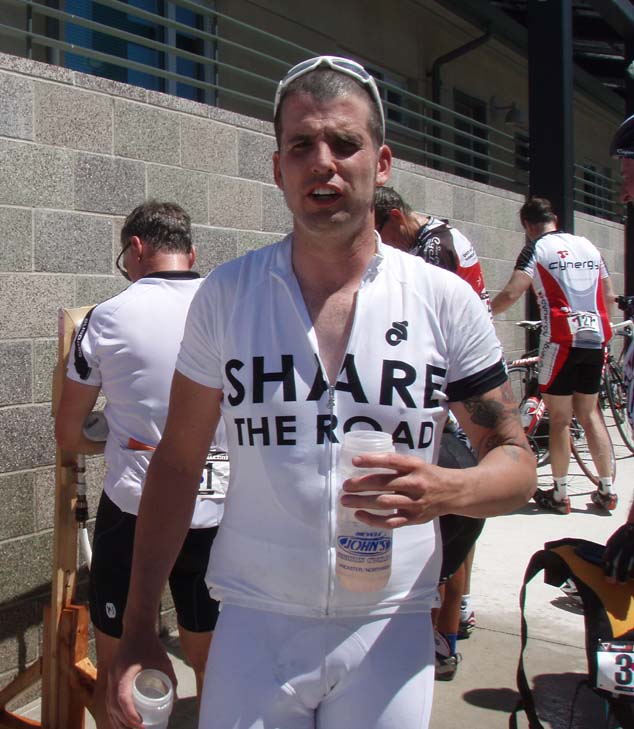 Planet Ultra's Mulholland double century and Mulholland Challenge are epic cycling events that take place in the Santa Monica Mountains behind Malibu (and beyond). Last year I rode the Century Challenge which was one of the best days on the bike I've ever had. I just hammered for the entire 100 miles, which I can't say I had ever done. In 2006 I also did the Challenge and in 2005 I rode the double. This year I volunteered, which makes four years in a row I've been involved in this event!
My checkpoint was at the top of Decker Canyon, a brutally steep, long, hot climb into the mountains from PCH; one athlete said the cyclists strung out on it 'resembled a battle ground of despair'. At the top I was most often greeted with elation, 'Is this the top? I did it? Wow!' or slight anger, 'That was so damn miserable! This is ridiculous!' First the fastest riders come through. They are quietly suffering and do not hang out long. Then the 'rush' and the middle group makes it way to the top. Some move on quickly in order to get it over with. Some hang out as shown below.
The search for shade
The last 10% or so of riders tend to look ghostly. Often some food and water will get them on their way, but some are just in over their head. This is one of the hardest centuries in Southern CA (anywhere?)!
Putting water and calories back in the participants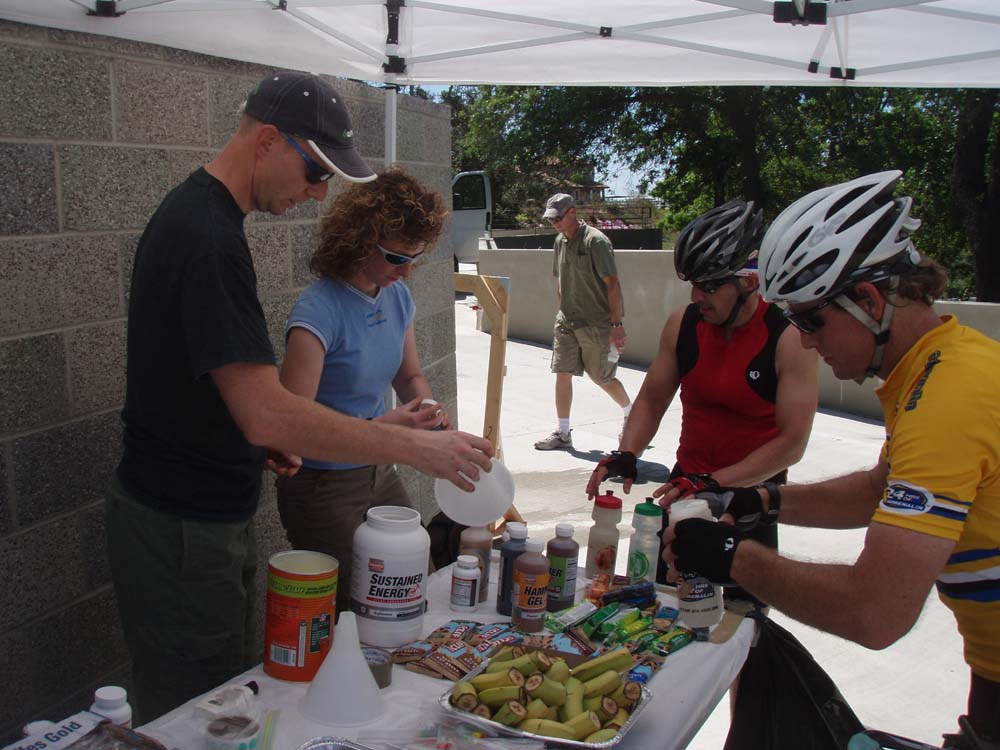 This guy crashed on the infamous Deer Creek descent
(which has claimed many carbon wheels),
but pushed on to finish
I love this photo. It makes me think of how in many parts of the world the search for and acquisition of water (and food) takes up a significant percentage of people's days. In modern-day Southern California we punish ourselves on our bikes to intimately know the need for water and food. This could be in an Anthropology textbook under 'Cycling Culture'.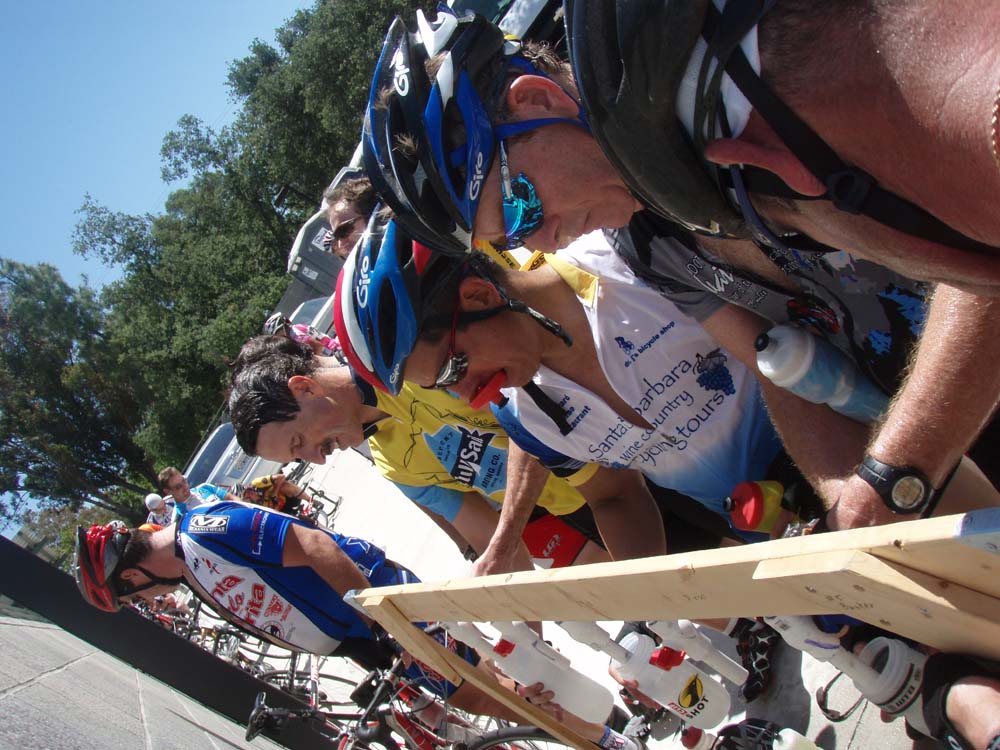 The SAG wagon was a party van: 25% of century riders DNF'd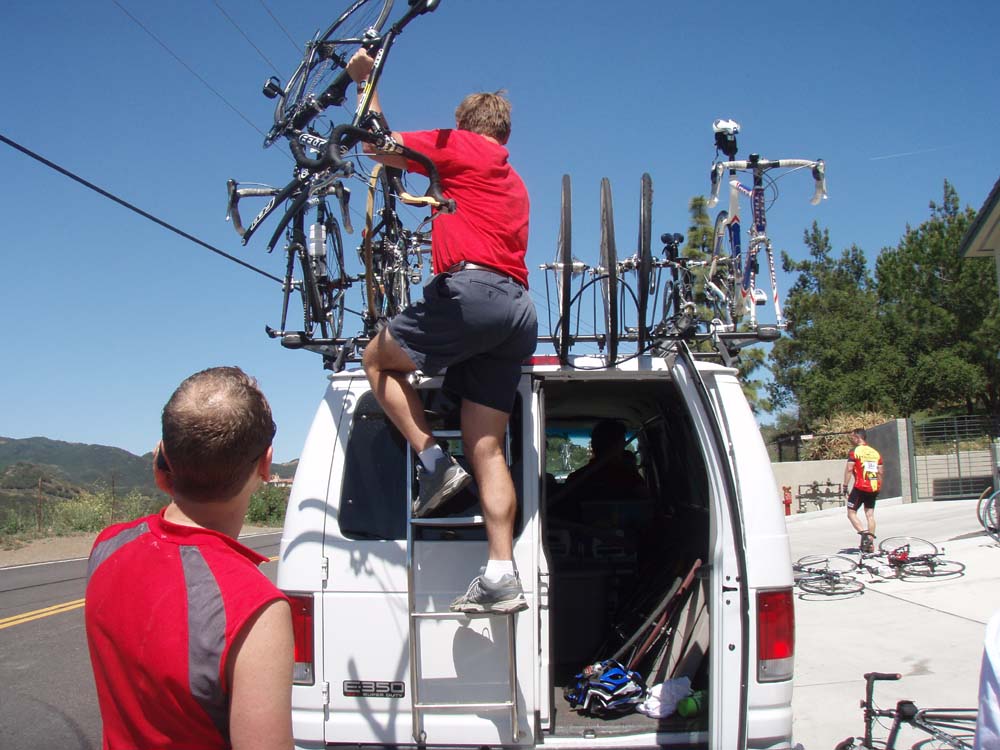 I noticed this sticker on the back of another SAG vehicle
This cyclist took it literally.
I am not sure if a requirement of getting into this SAG was actually pedaling to you puke.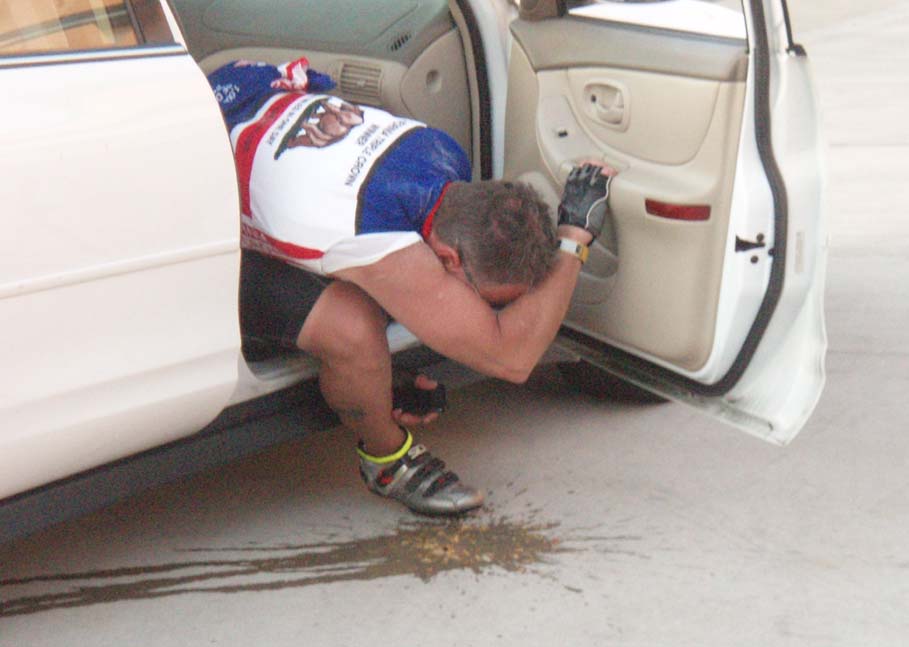 A sick bike. Worth a year's rent in Los Angeles.

Soon after the century riders, the double riders started filtering through. They were at mile 162 of a long, difficult ride. The climb took a toll on a significant number of these hearty souls as well. Our cut-off time was 6:30, but many riders had yet to arrive and pick up their lights. It was getting dark. What to do? We packed up the van and I drove down Decker to find them. The first guy was done. Said it was the worst day of his life and he wanted to be SAG'ed back to the start. Later he told me he has ridden over 100 double centuries. Down the road further I came across a guy walking. He didn't want his lights, he wanted to get in the van. No problem. Within five minutes we were pulled over so he could get out and puke. I gave him a bag cause I didn't want to stop again; we were low on gas and I wanted to get off the mountains.
Back at the start/finish hotel around 10pm and double riders were finishing up. Century riders who earlier looked like zombies, were now fed, showered, and changed, giving the impression of normalcy. I was slightly concerned about getting back to El Segundo, I had ridden up from raw Brian's earlier in the day. Ends up that Raoul, the puking in the van guy, lives in Hawthorne, which is right next door to El Segundo. We packed our bikes into his Sentra and on the drive he told me how he got into riding doubles. A great story of widening horizons and dedication. Back at Brian's at 1130 in time to catch the end of Jenny's b-day party and eat some of Kiecker's famous vegan fudge.