Team PSU Alliance for Animal Rights 2000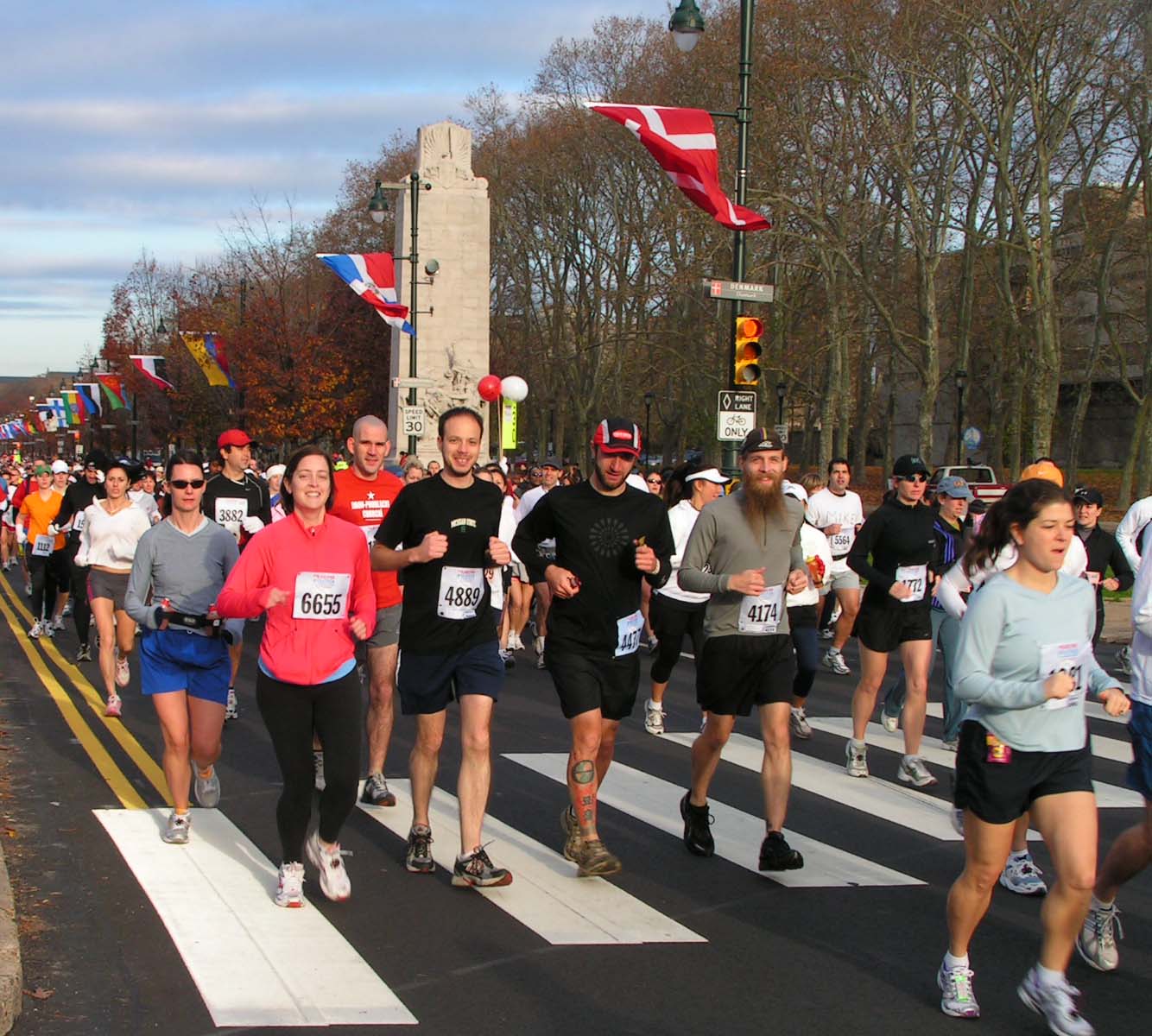 After
running the half marathon with Brad last year
he made it clear that he wanted to do the full. I knew he was down for the training, but I couldn't make any promises cause of school, the great divide and the 508. When I was in Philly in the Spring I mentioned this idea to Mary and Christian, both of whom go running occasionally, and they were done. That's it. In late Sept I figured out that I could get away to fly to the east coast for the race, which was the wknd before Thanksgiving, and then stay and see family.
I booked my ticket and started training five weeks before the race. Everyone says, ' You've done it before, it'll be fine.' But long distance does not work that way, if you have done the time you'll suffer for it. I ran two or three times a week, got my long run in and just didn't have time to taper (it's recommended to do your longest training run 3 weeks before the race, I did mine 6 days before).
After some bib difficulties, we were chowing down on a great dinner Saturday night. Mary insisted on arguing with me about nutrition, but I let it go because I know that she's an engineer and they think they know
everything (ha ha). I spent the night on Brad's couch, which was the best night sleep I had gotten in days. My flight out was super early on Fri morning and then on Sat I went to NYC real early to see my good friend Tom Hooper before he went back to London.
When running a marathon, I think it helps a lot of people to have a routine. Brad, Mary and Christian all had there little things they did every morning before running or certain things they had to wear. I imagine it helps somewhere in your brain to recognize some commonalities to ease the stress of race day. Brad and I rode bikes down to the famous art museum for the start, but we were early and were trying to stay warm and not stress about not seeing Mary and Christian. Finally they show up, we strip down and lock our extra clothes with our bikes and head towards the corral.
We agreed to stay together the best we could as we were all shooting for around 4.5 hours. Mary was stoked on the Clif bar pace team and we followed them for quite awhile. The picture above was snapped pretty early on, just beyond the museum heading towards City Hall. The pace was a little quicker than I was used to, but it was so fun to be running with some great friends. The route wound through old town, south philly, south st and then into some back parts of Fairmount park before looping back past the art museum before the final out-and-back to Manayunk.


Notice that Brad is not in the picture here, around the half-way point. He took off and sprint finished for a time of 4 hours and 22 minutes. Congrats Brad! Christian took off not long after this photo and then I ran just a bit behind Mary for a couple of miles.
Somewhere in Manayunk, when the out-and-back section was only separated by orange cones, I heard someone yell my name. Who would know me here or know that I was running this? It was my old friend Steph Surch. She was running it and recognized me! I have not seen her in at least 3 years. She used to race pro bmx and her and her family use to take me to races all over the country. Now she is an ultra-runner and has done a 24-hour mountain bike race. How rad!
The last six miles were kind of brutal. Mary's knees were really bothering her and the back end of a marathon is a gritty sight as people struggle along well past their last bit of motivation. Mary kept running though! We were even passing people. She had run this section a bunch in training, but was frustrated with how much longer it took to get any where at our slow pace. So far at this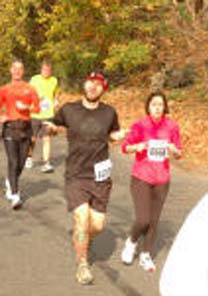 point we had all been diligently eating our gels, but that was the only food we had. I had talked about how much I wanted a soft pretzel; Mary thought that eating a soft pretzel while running was the most revolting thing ever (and told me so whenever I brought it up). But then this guy had some! They were a little old, but hey, I got almost half of one and was elated to munch on it while I ran. Mary didn't look at me once.
Then were at the end. Just like that. Crowds lined the streets, cheered us on, etc and we ran across the finish with a time of 4 hours and 49 minutes. Christian had finished strong about 10 minutes earlier. Nice.
Thank you Mary, Christian and Brad for everything. It was so good to take this on with all of you. Much congratulations are in order. Yeah vegan team!
Brad has a report and some more tiny, blurry pics (cause that's all they'll let you see) on his myspace page.