Saturday I rode a
50-mile mountain bike ride
to benefit
Project Rwanda
with Max and Jack. Years ago I read
We Wish to Inform You that
Tomorrow We Will be Killed with Our Families
(
here
on google books) so I know a little bit about Rwanda. Project Rwanda was started by Tom Ritchey, the same guy that was around for the beginning of mountain biking and the guy who makes the break-away system I have on
my track bike
. On the website he says, 'To me, the bicycle is just a freedom tool to a bigger vision for Rwanda.' I couldn't agree more, but I don't think its use as a freedom tool is limited to Rwanda. He was on the ride and Jack and I chatted with him about our track bikes ('How exactly did you get them?' he asked), but I didn't mention this to him.
I rode my freshly painted Cross-bike that was recently rebuilt with a bunch of new parts:
Jack rode his Kona mountain bike, that is set up fixed gear:
The ride started at 7am at Cook's Corner, a place famous as a motorcyclists' hangout. The
route
(with photos!) was made available beforehand and I had planned from the beginning to take my cross bike. I was a little concerned when about 75% of the bikes were full suspension! The course was beautiful and after only a few miles the hundred plus riders spread out.
Can you believe this is Orange County?

I was riding strongly, passing people on the climbs (I have a compact road crank, 50/34 and a mtb cassette that is 12-32) and getting passed on the descents. Cross-levers made the technical downhills much easier; which I learned the day before when Jack and I rode El Prieto in the San Gabriels. You can lean way back and still have access to the brakes. About 15 miles in I guess I was leaning too far back and pinch-flatted on a technical downhill. Probably for the best as it made me take it a little slower. Jack caught up while I was attending the flat and we rode together long enough to run into the guy from Planet Ultra who then told all his buddies about us at the HooDoo 500 earlier this year. With me on Cross and Jack on fixed the 'look at us!' factor was high.
A woman's single-speed

The terrain was varied with fire roads, double-track, some fast, packed sections, technical single-track with stream crossings and steep, long climbs. I even passed some jumps that took all of my discipline to not go off of. Finished in about 5 hours, in time to hang out with Megan and Sufiya who had volunteered. They even had veggie burgers at the BBQ! I heard the fat, leather-wearing guy running the grill say, 'We should of known all these healthy cyclists would want veggie burgers.' Also, during the raffle the woman running it (also from Cook's Corner) kept making reference to cyclists shaving their legs. How many mountain bikers do you think worry about healthy food and shave their legs? I don't think very many.
Jack, Myself and Max giving the sign of devil to counter the earlier prayer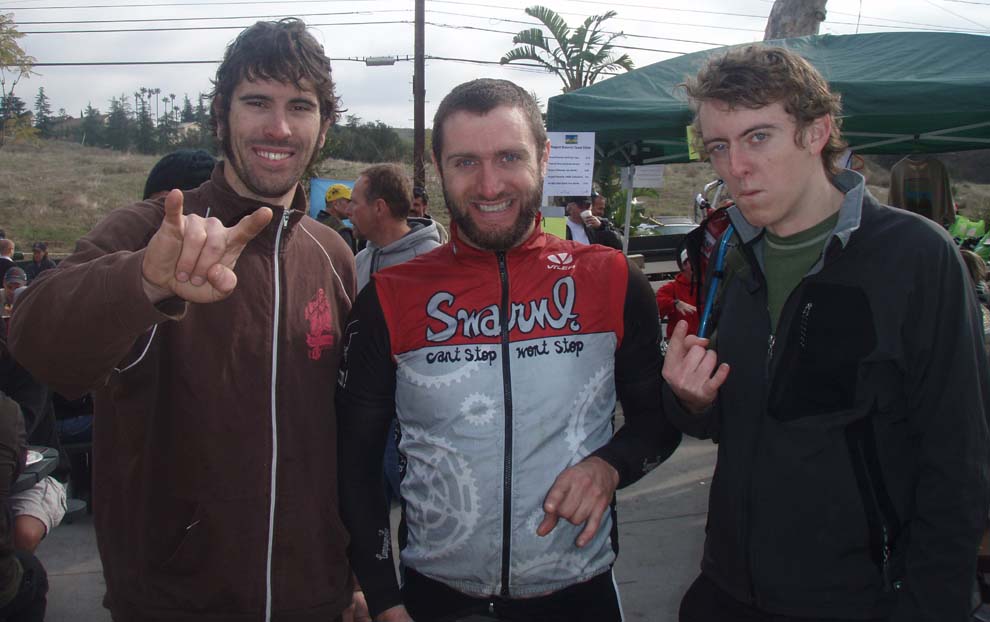 My only complaint (even the t-shirt is dope!) about the ride was the presence of god. At least two of the organizers are into god and insisted on talking about it and even had the audacity to have a prayer before the ride. They are not working directly for Project Rwanda, but I still think it reflects poorly on the project to have Christianity involved. The last thing Africa needs is more Christianity. Like the earlier statement about the bike as a freedom tool that is probably true for the whole world.