Thanks for writing this Morgan and for taking such amazing photos!

Sometimes one feels the pull to burn through the fabric of everyday life into the deeper, visceral reality concealed below. A few days ago, a group of four of us experienced just that.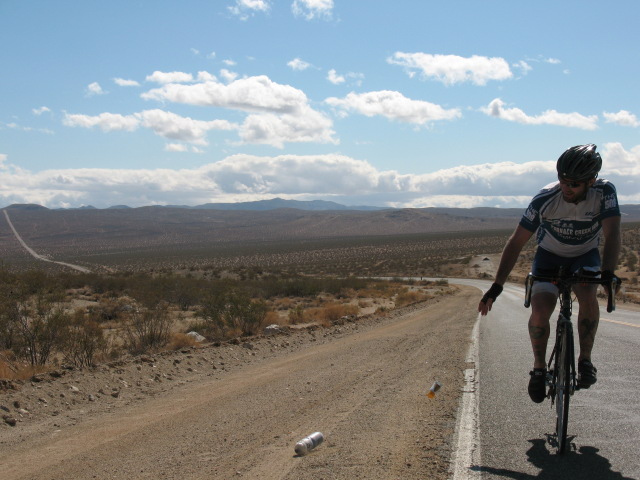 The Furnace Creek 508, a ultradistance cycle race through the Californian desert, has become somewhat a legend, and more recently a fixture, amongst our group of friends. The route describes an inverted "V", starting in the south-west just above Los Angeles, wending through the desert to it's most northerly point around Townes Pass into Death Valley, then heading south to Twentynine Palms near Joshua Tree National Park. Prior to this year, two of us had ridden the full 508 miles ride solo, four had ridden it as a relay team together, and one was forced to abandon a solo attempt due to a knee injury.

This year it was long-time friend Matt's turn. This journey through the desert is to be completed over two days and two nights; three of us would be there to travel with him, providing sustenance and support. Setting off just after sunrise, Matt climbed in the midst of a caravan of cyclists through the southern Californian mountains into the clouds. Thick damp fog made it hard for us to see him approaching as we stood waiting to pass off bottles of water, peeled bananas and energy bars.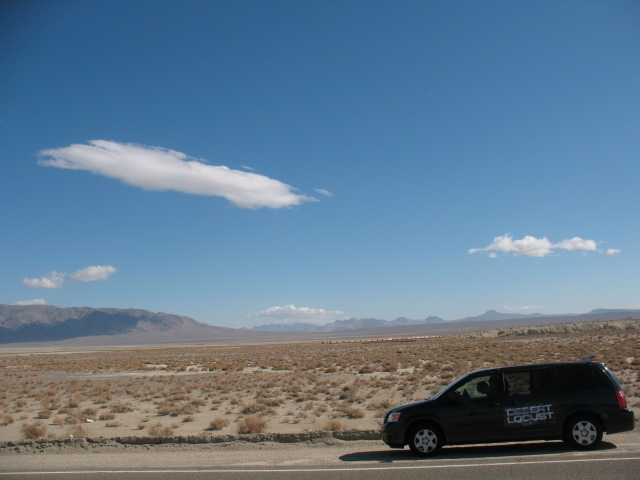 Gusting winds encouraged us through the desert, past dry salt lakes, disused airplanes, huge wind turbines, endless straight roads and expansive desert planes. Distant glimpses of the high Sierra Nevada in the distance excited.

As the sun set, the climb up the mythical Townes Pass was surrounded by raw blue skies and long shadows. Townes Pass is the gateway to death valley, and it was there that one of the three-strong support crew succumbed to travel sickness and, after almost three hours of nausea and vomiting, was forced to abandon ship for the night. He hitched a ride with race staff at an oasis of light in the depths of the darkness of the valley, Furnace Creek.

The night's journey truly began shortly afterwards. Now there were only three of us. At night, the race rules direct support crews to follow immediately behind their riders, illuminating the way with their car headlights and shielding the rider from any oncoming traffic in the desert. The two of us in the car where in a hypnotic, focused world of admiration and logistics; Matt was meanwhile cycling in a world of suffering, yearning and anticipation. At least that's how it seemed – our worlds only touched occasionally, and briefly.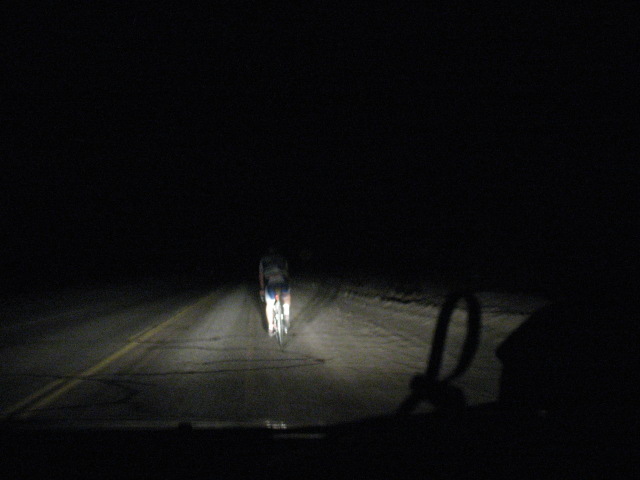 Those worlds dissipated with the sunrise. We stopped briefly for Matt to sleep for fifteen minutes; I'd slept sporadically throughout the night so stayed awake to watch the sunrise. Fifteen minutes was quickly over. We were back in southern California and heading towards Baker where the route crosses the I-15 between Los Angeles to Las Vegas.

The second day saw Matt trawling through darker times. Endless, horizonless climbs past lava flows and cinder cones with a scorching sun above took it's toll, exacerbated by an injury and an otherworldly, sleep-deprived state. We stopped to cool Matt and to talk to him once, but for the most part Matt pressed on doggedly.

The final climb was shorter than we'd all remembered it and we saw Matt power up the hill. Curiously, this had been a pattern over that second day: renewed energy when confronted with a challenge. Matt maintained this energy through the final near-suburban desert stretch into Twentynine Palms, city of murals and naval hairdressers.

A few days later, thinking back, I recall how the night made my thoughts coherent, and brought to mind the final sentences of Albert Camus' The Myth of Sisyphus. "The struggle itself towards the heights is enough to fill a man's heart", writes Camus. "One must imagine Sisyphus happy."