''That was a spiritual odyssey,' said Morgan after an early afternoon climb that we had just struggled up. People were actually walking their bikes up this monster hill. Just one of many. A great first ride for me and my new Seven! My bike was together a couple of days earlier, and a small problem was fixed the night before at the shop. New shoes and pedal system, new shorts and jersey; I am stoked! Pics posted soon.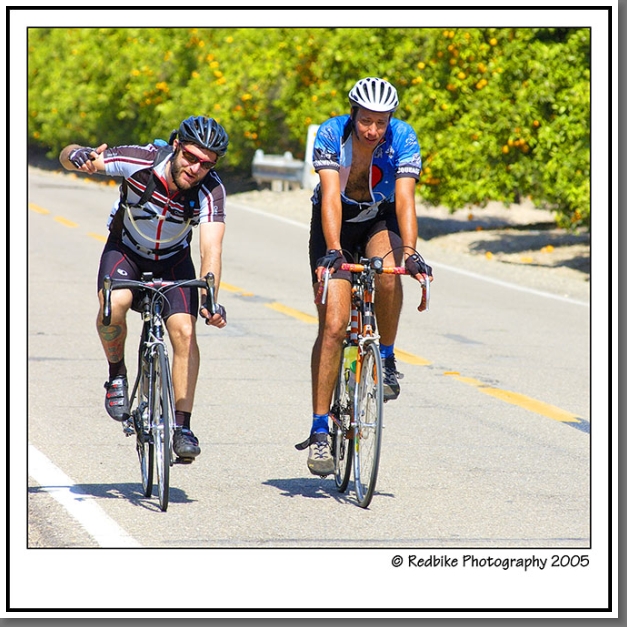 We knew this ride was going to be difficult, but it was far from our minds as we grubbed Indian food with the crew the night before. This ride was just outside LA so we slept at home the night before and borrowed a car to get out there. Morgan started off smoothly by forgetting his helmet and then losing the chip you turn in to prove that you started. In his defense we had less than four hours sleep.
The group start was brilliant as we headed down Las Virgenes through the tunnel and onto the PCH (Pacific Coast Highway for y'all on the East Coast). The group split when we hit Topanga Canyon and started climbing back into the mountains. We held up pretty well and then Morgan and I got separated. Turned on some crazy side road and climbed another 1000 or so feet before descending back down to the coast. This was one of those roads that hugs the mountains and seems to drift over the ocean from above. Stunning. I was laughing as I flew down at 35 MPH…
Climbing, climbing, climbing. Loving my bike. Morgan, still riding the bike he found at a bus stop, ended up bonking hard in mid afternoon (not long after we were pulled over for running stop signs). Got some food in him and we set out from the last check point before Balcolm Canyon at mile 125. A roadie had chatted us up earlier and merely laughed when we mentioned this climb. Someone referred to it as a 'novelty' climb. My 39-27 was barely turning as I grinded up it. Back to the coast again before the climb up Mulholland from the PCH. This is the route I once drove over in a convertible…
We just barely finished the big descent before dark. Push push push…to the climb we knew was coming: Stunt road. At least it wasn't hot! Last check point is at the summit and whenever new riders would appear from the climb everyone would clap! One more significant climb then a cruise back to the hotel. We rolled in with a time of 16 hours and 47 minutes. Not bad for the second hardest DC in California. 32% of the people who started didn't finish! Morgan, unfortunately got a DNF for missing that turn early on and missing the extra climbing. Stage One of the Triple Crown Stage Race down! Two weeks till Stage Two, the Devil Mountain DC, with its 20,000 feet of climbing.