The start at Silver Lake Farmers' Market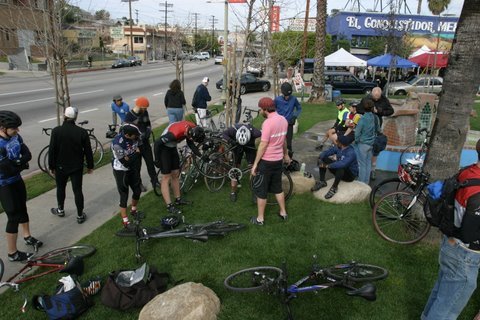 Racing up hills in an unsanctioned race in the heart of urban Los Angeles, I am figuring out, has minimal appeal. Or am I just not reaching the right people in my promotion? Regardless, for the third year in a row
Swarm!
put on Feel My Legs, I'm a Racer, the 10-hill stage event that is a race for some, an epic adventure for others that tackles the hardest, steepest, longest hills we can find in our city. It's based on the Legendary
Danny Chew's
race in Pittsburgh that's in its third decade. Coincidently, my good friend and bike tour co-conspirator
Steevo
has won it four years in a row. Unlike their race, we do not attract Categorized road racers, but urban cyclists (almost everyone rode to the start) who are up for a serious challenge.

Including the Swarm! rank and file we rolled out of Silver Lake about 50 deep to a new hill for 2008 deep in Mt. Washington, Eldred St. With claims at steepness greater than Fargo St (hill 6), it was worth the 6 miles each way to add it to the route. When we turned the corner the hill was in view the gasps and 'what the fuck's' from riders told me it was a good addition. Not only is it steep for a significantly long section, it is narrow, has uneven pavement and gravel and two loose dogs. In the photo to the left Brian shows that bike skills and patience can go a long way. 5 points.
We rolled back to Echo Park and Silver Lake hitting the string of hills (Marview, Quintero) along Sunset blvd before the long-ish stretch up Echo Park Ave to up and over Baxter. It was the strangest feeling: sun and warmth instead of rain and clouds. The descents were also significantly less scary with dry roads.
Jack and Cole lead the way up hill 2, Marview.
After climbing up Baxter from the Echo Park side there is a steep decline into a ravine, before hill 5, which is Baxter again up to the same ridge as the top of thee Fargo hill (but from the opposite side). Back in 2005 I did the water/food support with a BOB trailer in the rain and nearly crashed coming down when my brakes locked up and I launched over the bump in the cross-street. Even though my bike and trailer were airborne I managed to stay on the bike. It was super scary. Unfortunately Cole was not there back then, so when he bombed the hill in 2008 he had no idea the cross street lipped up. I saw him accelerating down at probably 30+ MPH, but figured it was Cole, who has mad bike skills, so I wasn't that worried. Then I saw him launch off the street. And fly through the air. Then crash and slide UP the other side. Fuck. He leaped to his feet immediately, as we rushed over and made him sit back down. Fortunately a woman from the neighborhood happened to be walking by and told us she was a fire(wo)man and took care of him. Can you guess what he broke? Yep, collarbone. And some ribs. Someone from a house made a sling from an old sweatshirt and the fire woman took him to the hospital with his new Independent Fabrication bike that I do not think was damaged.
We were all pretty bummed, but we know Cole will recover quickly and we went on to the next hill. Someone commented, 'See, maybe you hippies should have car support.' I was too caught up in dealing with Cole's injuries to see who said it, but here's my answer wise-ass: Why should we waste the resources of someone driving along the course, on tight back roads that already have too much traffic, just in case a rare emergency happens? As this case proves, our neighbors are capable of helping and help beyond this (which we didn't need) is only a phone call away.
After Fargo, we rolled up and over Earl St (which was one of the 10 hills in 06 and 07, but now only enroute) to Hill 7, Duane, from the dog park on Silver Lake Blvd. The extra miles in the start and the time spent dealing with Cole had already stretched out the day and people were getting tired. Then the sun went in. For the monster climb up to the Observatory it was cool and some sprinkles started to fall. When we regrouped and rode through Los Feliz back to Silver Lake it was full-on raining. Of course! We officially have had rain every year.
The hill that took Cole out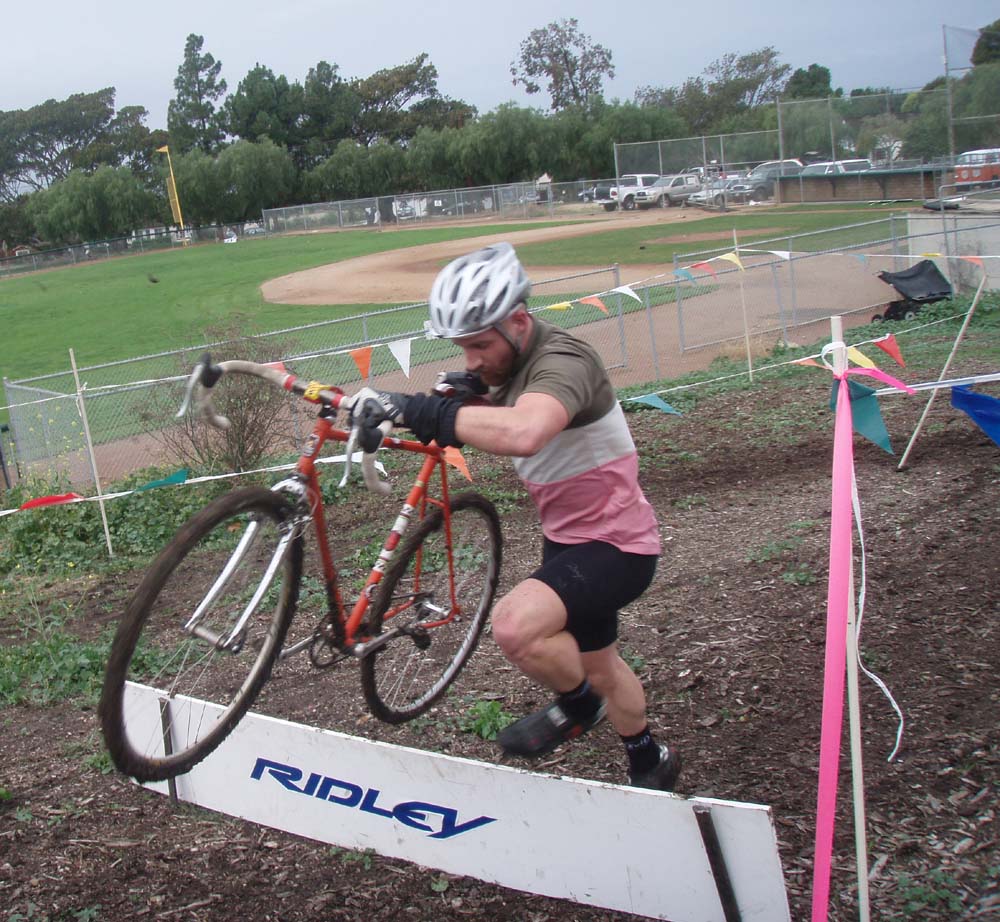 In Silver Lake we crossed paths with CICLE's Green Living ride before hitting the last two hills of the day, Maltman Ave (brought back from 06) and the epic Mitcheltorena. Our numbers had dwindled down as the difficulty of riding all these hills in a row took its toll on a more than a few.
The mandatory Fargo St shot. Note
the Hollywood sign in the distance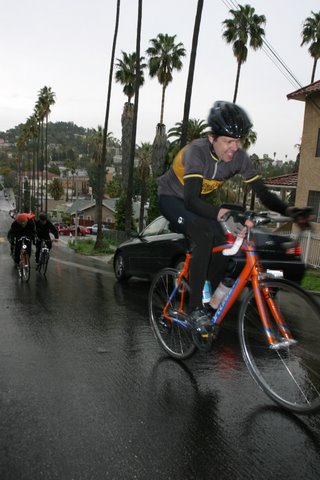 With Cole out of contention no one could reign Jack in. Dominance for the third year in a row. Not only has he won every year, he is the only person to ride it each year. When will some real roadies show up and give him a worthy challenge? Other Swarm!ers did well. Brian scored points on a mountain bike and Budge held his own on virtually no training (though once he did a road ride, messenger race and bike polo in one day). And no women raced this year. Where you at?
Thanks to everyone who came out and made the ride a success. And the Swarm! comrades who come out every year to put it on. Credit for the photos goes to Stephen Krcmar and
Stephen Roullier
. Get well soon Cole!
Chocolate, lingerie and sweaty bike riders