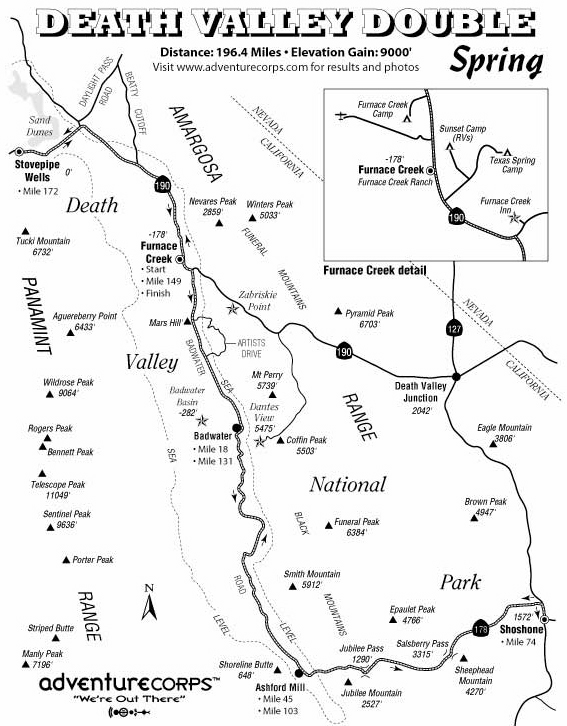 The first weekend in March, 20 of us are going to Death Valley for the century/double. This is my third year going to the Spring event and I am honored to be rolling deep for 2007. I know for a lot of you from the Swarm! list this will be your first century or double century. Here are some things I have learned, that I want to share:
1. Read the website so you are familiar with the route, rules, etc.
2. Get enough sleep on Thursday night. This is more important then Friday night.
3. Start with full bottles and a little food in your jersey pockets. The first 18 miles to Badwater (checkpoint 1) are mostly downhill. Budge, Morgan and Luz will be there helping out.
4. Start with warm clothes, that you can shed easily. The temperature difference between 6am and 2pm can easily be 30 degrees. A vest and arm warmers is usually adequate.
5. Have your lights sorted. There are drop points for where you think you will need them, usually at Badwater (checkpoint 5), mile 130. Make sure your batteries are fresh. Also carry a tube, a pump and a patch kit.
6. Don't hammer from the start! I still make this mistake. When I rode the triple century my first 100 and 200 miles were PR's. I paid for it later.
7. Eat something every hour. No matter what. Not eating/drinking enough takes out more people than lack of ability. The ride is well supported with 7 checkpoints with gels (bring a gel flask), bars, fruits, PBJ sandwiches, etc. Eat your money's worth. Always put a bar or fruit in your jersey pocket for between check points.
8. Stay focused. When you get tired your efficiency drops, but less so if you are mindful of it. Over 200 miles the difference between a 12 MPH pace and 14 MPH is 2.5 hours. Don't think about your finish time, but what you are doing at that point in time to keep your pedal stroke, etc efficient.
9. Ride with others at a similar pace. Pacelining saves energy and increases motivation.
10. Don't hang out at checkpoints! Do as we say, not as we do, right? Swarm! has a reputation of chillin hard and wasting time. It adds up fast.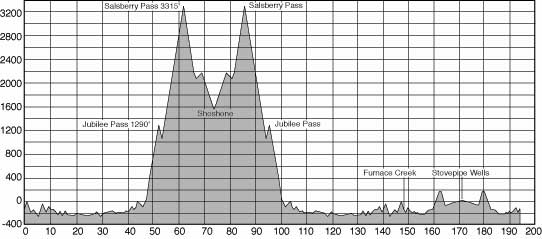 11. At this point, it is all mental. Plan to spend the whole day (and into the night!) on your bike and look forward to being able to do so. Death Valley is beautiful and it's effect on you will change with direction, light, feelings, etc. Take it in. There will be mental ups and downs; this is what life is about.
12. If you've been riding, which I know most of you have, forget about the physical part. It's a spiritual journey (to quote Morgan Goat Beeby). Compare it to running: A sub four hour marathon is a tough physical endeavor, but walking 26.2 miles in one day would not be difficult, if given the time. You've got the time for this ride, so do not stress on the physical component.
I don't want any Swarm! DNF's! My props to you for taking this on. See you at 6am for the group photo.