At exactly 546am we rolled up to the start (ride to the ride!). No one in sight. Not one of the 700 people signed up for the ride that starts 'between 515 and 545am'. So we pedal off! Within an hour it was warm. Ride fast before it's too hot or conserve energy? Brian double flats on a pothole in a paceline. A first.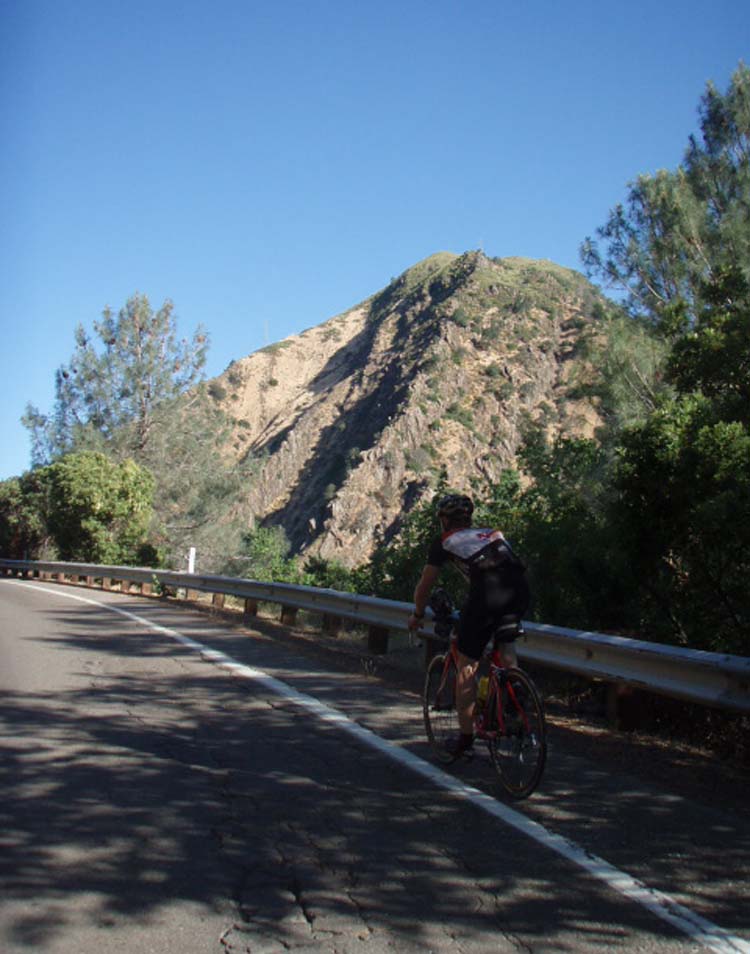 The Davis Double is super well supported with 10 checkpoints in 202 miles, most filled with plenty of fruits and other foods (no clif bars unfortunately). It is inevitable on a 200-mile ride that you will deplete your fluid and energy stores, but we put serious effort into minimizing that (read: we ate and drank a whole lot). There is only about 8,000 feet of elevation gain total, but most of it comes in four climbs. Four climbs in the middle of the day. Four climbs all when the temperature is over 100 degrees. We take our time.
The secret watermelon and vegan burrito stop on the LA to SF drive

When we finish it is still daylight, but unlike Los Angeles the temperature doesn't drop significantly. We eat the free post-ride food, try to find a tool for Brian's bottom bracket and start mentally preparing for Sunday. Back at Janie's house we eat again, load the car and then set off for the 45 minute drive to a relative's place near Auburn.
One of the many (okay, five or so) fixed gears at the double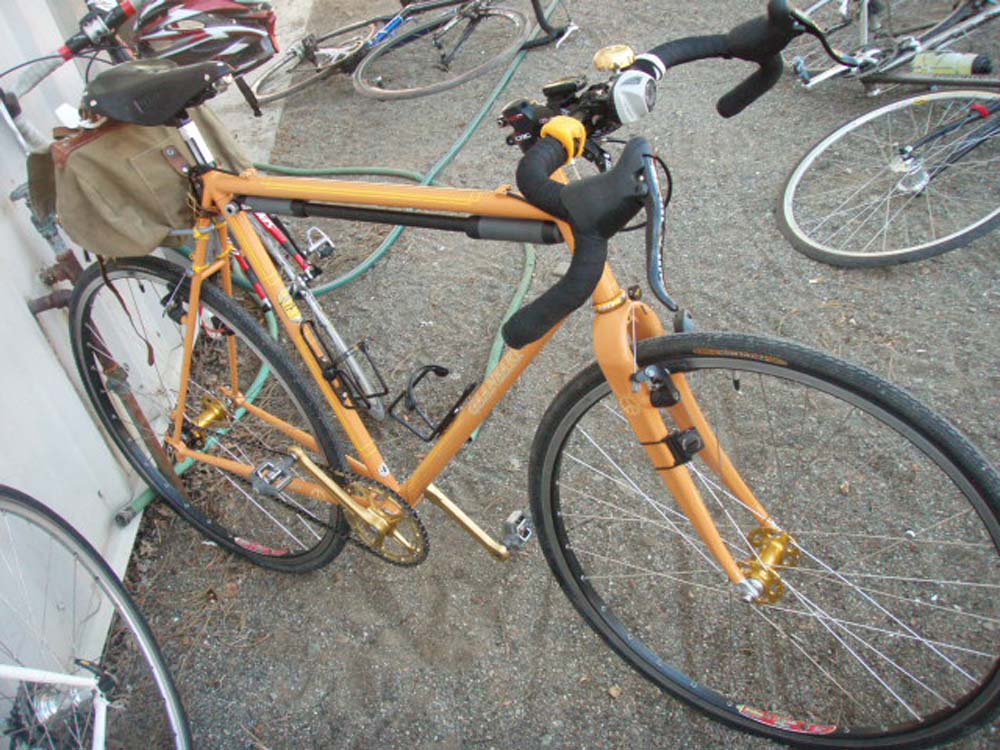 It's after 11pm when we say goodnight and agree to set our alarms for 445am. The heat changes the fatigue you feel. It's more of a whole body emptiness that you just don't experience from regular fatigue. And you just can't drink enough to replace what you lose. It's a losing battle. I lay down on top of the bed and am asleep before I even think about getting under the covers.
When I awake in the dark I don't feel miserable. Similar to being hungover (it's been awhile so I can't say for sure) in that you are slightly confused and feel like you over it did the night before. Brian looks somewhat normal.
We arrive at 'T2', which is also the finish. We set up our running stuff, load our swim stuff into backpacks, set up our bikes and ride to 'T1'. Six miles, mostly downhill. Ouch. Legs are unhappy. I'm still a little dazed, but the sun is up, people are about and excited. We check-in, set up our bikes in 'T1' and start to dress for the swim. Note to Jan Ulrich-types who like to gain weight in the off-season: If your wetsuit is tight at 'race weight', you are going to be unhappy at ten pounds over. Note to slackers: It's embarrassing to be running down the boat launch as the race is starting.
I have no shame in admitting that I was thinking about quitting before I reached the first buoy. I was struggling to breathe, my body was aching and I was cramping. Why is this so bad? Just kept swimming. Was focusing on my fish-like swimming and was getting nauseous. Can fish vomit in their mouth?
Back at my bike taking off my wetsuit was so glorious I decided to sit down and revel in the wetsuit-free glory. Then I tried to ride my bike up some hills and my legs hated me possibly more than my stomach. It wasn't that miserable feeling you get on super long or hot rides where you just want it to end. It was different. More of a disconnected feeling where your shortcomings seem somehow to be normal. The odd thing was that I didn't care that much. Did I accept it on some level or was I too phased to care? I ate a banana. Drank some electrolyte stuff. And some water. And got passed and passed and passed. Aren't I suppose to be the one doing the passing on this race? No top fifteen percent bike split this year! Hills are hard when you are tired.
I told myself I wasn't even going to start the run. Why bother? But when I saw my shoes I thought, 'I already paid and my shoes are already here…' and went out. Wow. Stomach is super unhappy. What's that weird feeling? Oh yeah, having to pee. Sort of. I think the thick liquid that came out was urine (only a slight exaggeration). At the first aid station I sit in the shade and stare off into space. My stomach is killing me. I add up my calorie consumption for the day: about 800 in five hours of activity. Uh oh. A very fit looking female volunteer probably 1.5x my age, or more, who could easily beat me in any race, says, 'Looks like you didn't do enough hot weather training'. I told her I did plenty the day before. 'Look. See the salt stains on my spandex?' The sun felt like it was melting my skin. Other people looked normal. Are they not human?
The run is two loops from the T2/Finish area. When I finished loop one Brian was there to cheer me on. He had finished already. I stepped off the course, laid down in the shade and didn't get back up. No desire to run. The ground was spinning when I closed my eyes. Am I still edge? Brian brought me some cytomax and water and I put it down. And then some more. And then some more. It's three days later and eating/drinking is only starting to be normal. Wow.
We didn't drive back that night. Even after ten hours of sleep we were both blasted. Unbelievable what the heat can do to you. What an adventure. Looking forward to Vineman in August. Nothing crazy beforehand.